This post may contain affiliate links which means I will get a commission if you make a purchase at no additional cost to you. As an Amazon Associate I earn from qualifying purchases. Please read my disclosure for details.
This post about the best Sweaty Betty leggings was not sponsored by Sweaty Betty nor was I compensated for writing this article. All opinions expressed in this post are my own.
If you live (and sleep in leggings), you and I both know how important these athleisure goodness are for working out and everyday life. Today, we are taking it to the streets with a roundup of the best Sweaty Betty leggings.
As we've all been aware, 2020 has been a rollercoaster! But we're not going to compromise good looks when we know exactly where to look.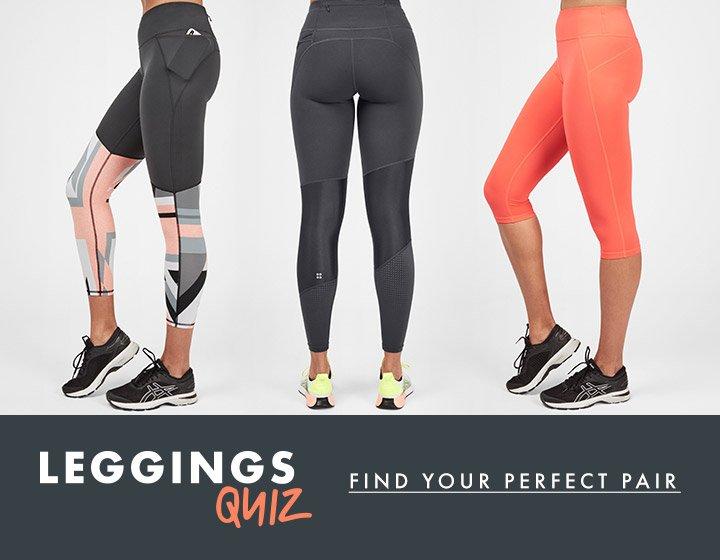 If you absolutely love Sweaty Betty workout leggings then you'll be in heaven with this week's round-up. After all, Sweaty Betty is a star-studded fave for those of us who save up to get ourselves a pair of luxury leggings.
They're crazy comfortable and when you find out how well-made they are, they're an even better investment. Honestly, I have a ton of high praise for the Sweaty Betty line.
So let's take a look at some Sweaty Betty leggings and maybe you'll find a new look you've been waiting for. In no particular order, these are the best Sweaty Betty leggings worth adding to your arsenal: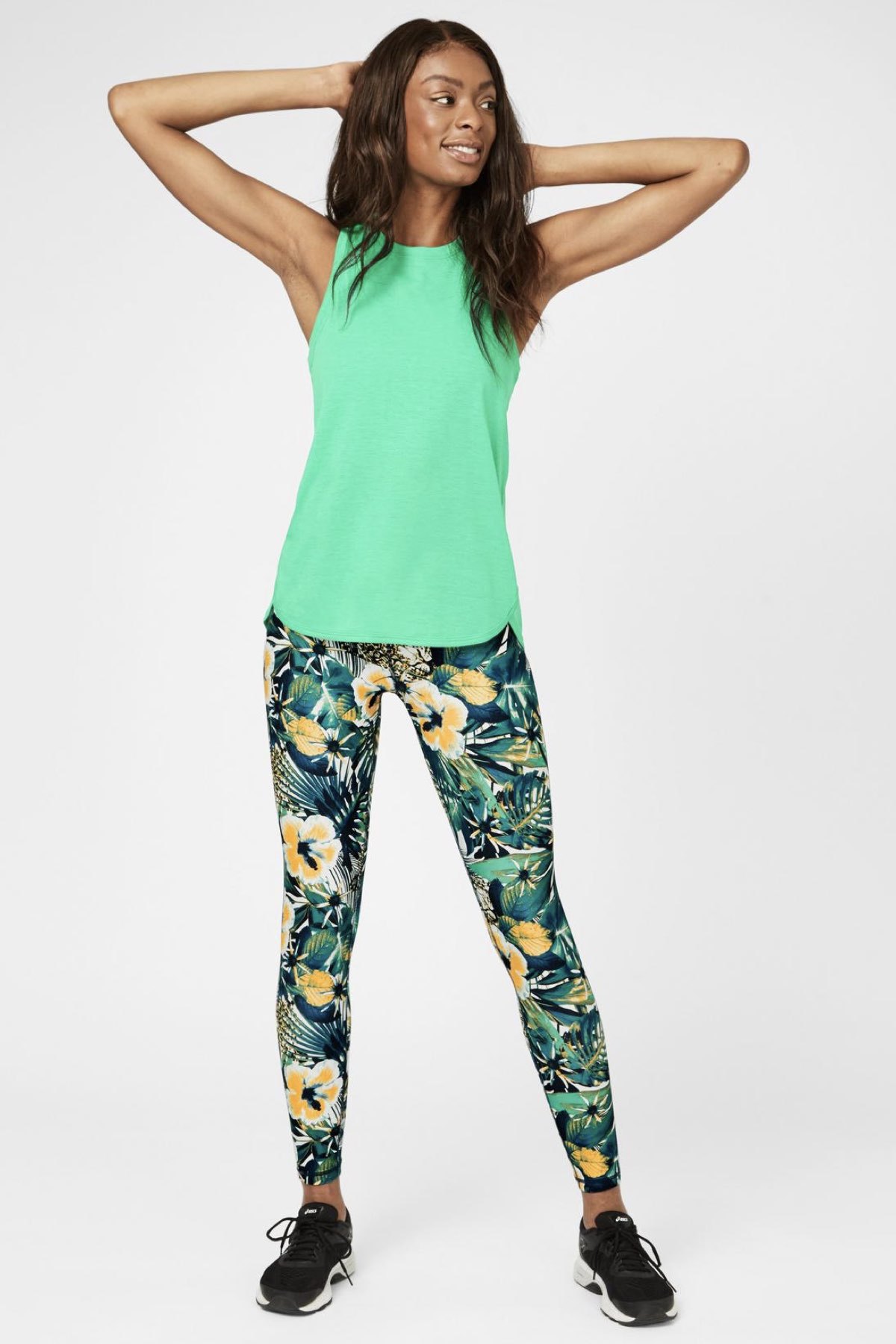 We all know that luxury isn't cheap. Cutting corners to get discounts has temporary benefits but nothing beats a long-lasting item that you may never need to replace. While a little pricey now, they give you immeasurable value down the road.
Your high intensity workout needs high quality outfits and now that you're looking for some new leggings you'll love what these options can do for you.
9 Best Sweaty Betty Leggings in 2020
Ladies, get ready! These Sweaty Betty leggings are going to amplify comfort and practicality as you stroll through the park, head out for a run, and get down to business with your best casual self. Let's not forget: leggings are also perfect for staying fabulous indoors.
1. Power Workout Leggings
If you haven't heard about the Power Workout Leggings, you might find yourself wearing one on a run sometime soon. There are pockets for the essentials and that's a huge bonus if you're not a fan of working out with a phone in your hand. Sweaty hands? No thanks!
I just want to say the Power Workout Leggings are the perfect fit. They have an adjustable drawstring that keeps the waist secure and makes it possible to keep your smartphone in the pocket without any uncomfortable sagging.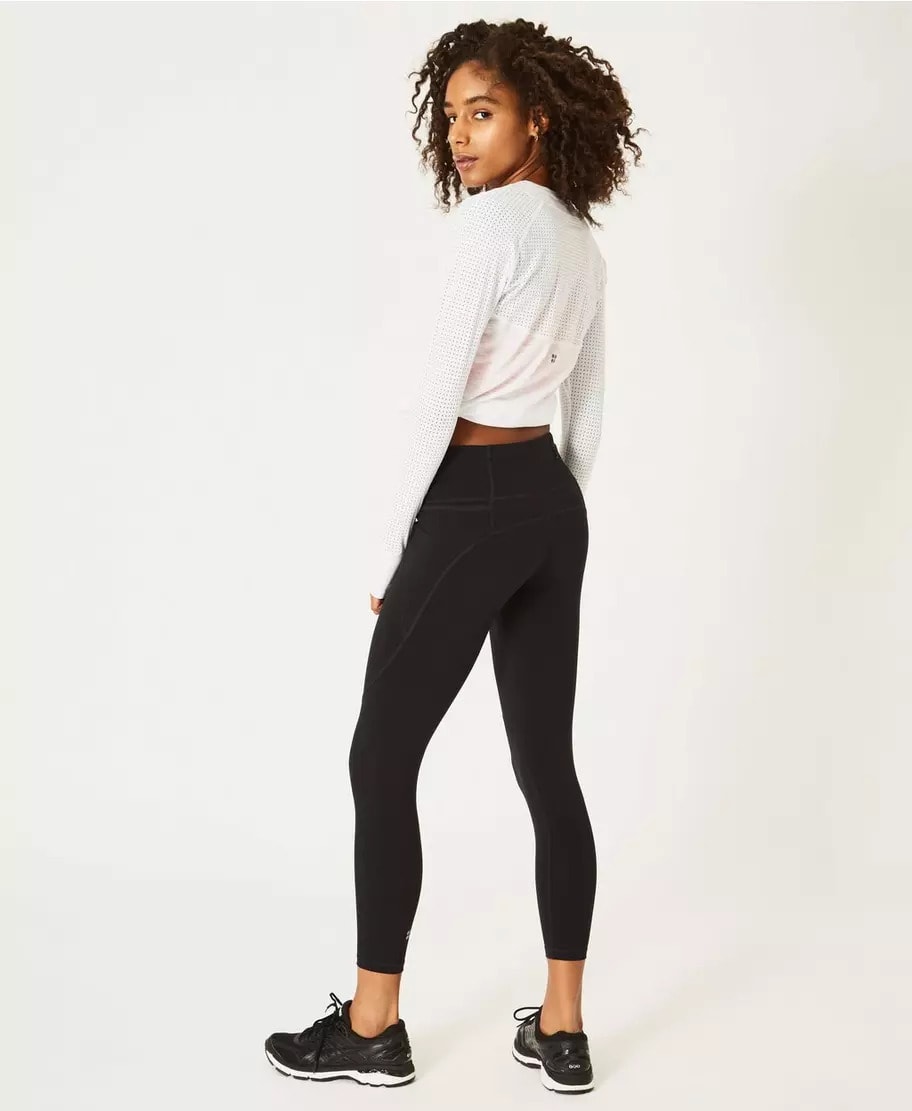 As the name, "Power Workout" suggests, it makes sense that these are lightweight and moisture-wicking. This feature doesn't make them any less stretchy though. Pick these if you're hitting the track or jumping into an intense workout.
Three quick things I love about these leggings:
I like how Sweaty Betty calls their leggings "bum-sculpting" which makes the fit pronounce the curves in a generous way.
I can consider wearing these leggings indoors or pair them with a casual top. I can also throw together a more outgoing getup if need be. Accessorize!
I love the four-way stretch. Squat-proof leggings should be the standard and I'm glad these ones are.
With over ten colors and prints to choose from, these sweat-wicking leggings are absolutely in the lead. Let's see what else Sweaty Betty has in store.
---
2. Zero Gravity High Waisted Running Leggings
These amazing leggings from Sweaty Betty are loved and worn by celebrities like Jennifer Aniston. Look no further, 'Friends': the Zero Gravity High Waisted Running Leggings are next in line.
These leggings are another bestseller from the Sweaty Betty Leggings collection so you get the fantastic features that make workouts functional and stylish.
Some thoughts on Zero Gravity:
High waist leggings are a must-have for every fitness enthusiast.
Made with very lightweight quality Italian fabric, your workout routine is made easy and comfortable in these leggings.
Because of their high waist, I love the tummy control this legging has. It does a phenomenal job fitting from the waist to hips, all the way to the ankle. Even with a larger smartphone, these should hold up well through any workout without sliding down.
Some credit should go to that drawstring! I'm glad to see drawstrings are becoming more common these days.
I love the side pockets and the print design which make these adaptable for both workouts and casual outdoor activities.
So how squat-proof are these leggings?
Even though Sweaty Betty says it's 80% squat proof, I got to hand it to them for their honesty about the leggings. This kind of honesty is a rare occurrence. If you love a long walk or jog, these are definitely worth considering.
---
3. High Shine High Waisted 7/8 Workout Leggings
Of all the Sweaty Betty picks, the High Shine ⅞ Workout Leggings are the most versatile choice. The glossy, elastic high-waisted leggings are perfect for that throwback look.  They're breathable and can be styled with any top or footwear, but go especially well with a yoga mat.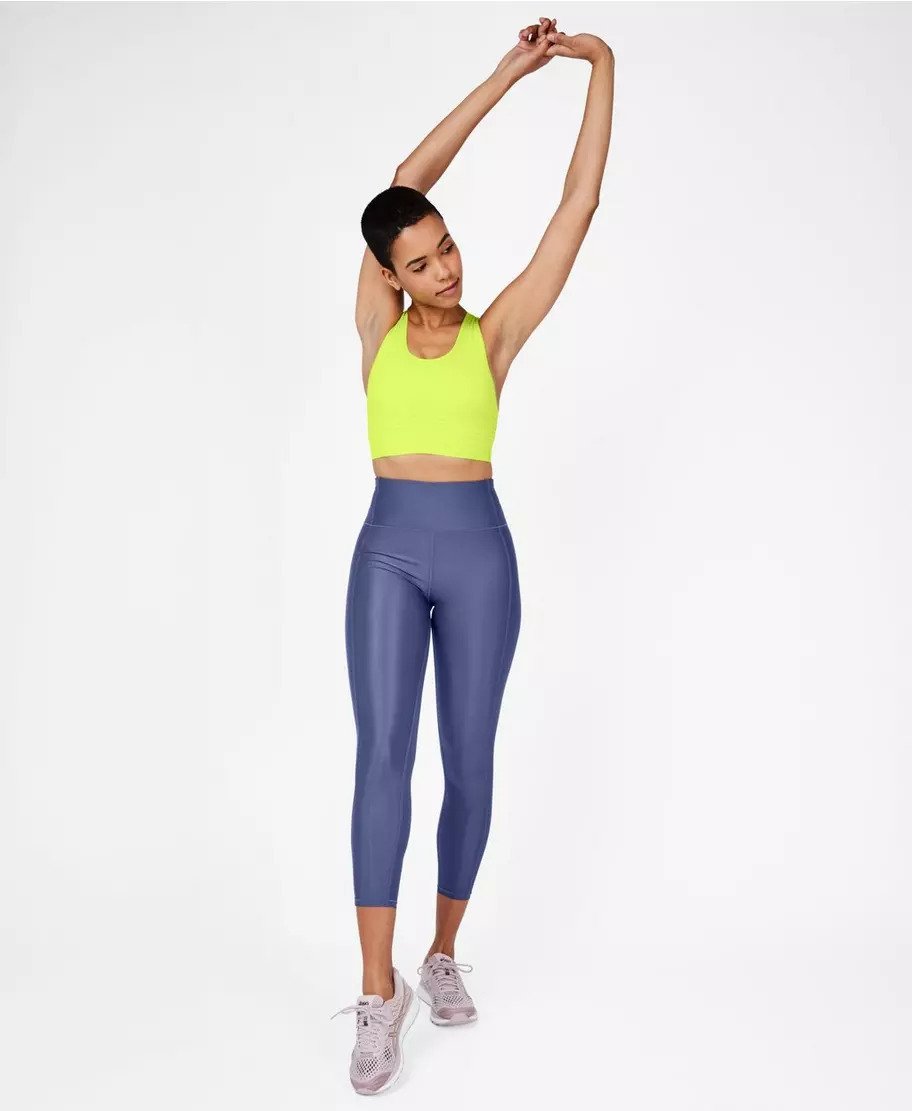 Best features of the High Shine leggings:
This pocketless legging comes in three high shine colors to choose from, and they're super stretchy, breathable, stylish, and enhance all your assets effortlessly. A classic look with new functionality.
The high shine does a great job and features curves in the best way. It's sure to give you that sexy sporty look you're going for.
An incredible 100% squat proof while also being moisture wicking makes it a great sell for yoga and pilates class.
Considering the features and the price, these leggings are a bit more affordable than some of the other favorites. For $88 the quality in these high-waisted stylish, versatile leggings from Sweaty Betty are worth the plunge.
---
4. Super Sculpt High Waisted Yoga Leggings
I agree with The Cut when it considered this Super Sculpt High Waisted Yoga Leggings as "The Best For Your Butt."
Super Sculpt is definitely one of the all-around faves. This legging captures confidence and really lives up to the "bum-sculpting" that Sweaty Betty claims. In addition to their compression fabric features, these leggings are 99% squat proof and have an elastic high waist.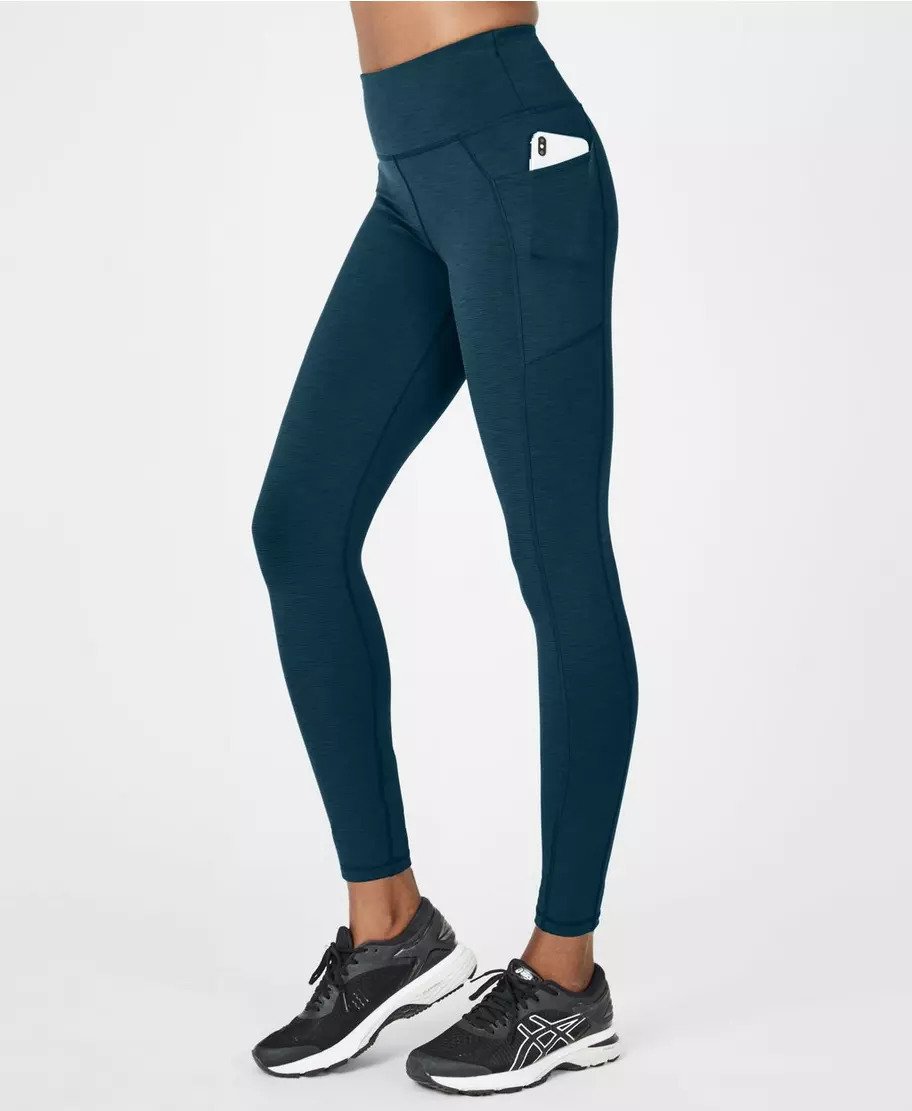 I love how the high waistband keeps snug to the body and has a solid tummy control. But I especially love its pocket features, making it a versatile piece from Sweaty Betty. From weights in the gym, to yoga class, and those post-work jogs this will pair well with any fitness routine.
If you're a Sweaty Betty newcomer and you're looking for an investment in your workout routine, you might really love these Super Sculpt High Waisted Yoga Leggings.
---
You'll love these related posts:
---
5. Contour Workout Leggings
100% squat proof. That's what I'm talking about! The number one thing that many Sweaty Betty leggings fans enjoy most about this Contour Workout Leggings is that skin smooth softness and its 100% squat proof feature. 100 hundred percent. Finally!
It's one of the comfy ultra-lightweight leggings from Sweaty Betty you can wear any day. When it comes to the best "on skin feeling" from Sweaty Betty, the Contour Workout Leggings steal the spotlight.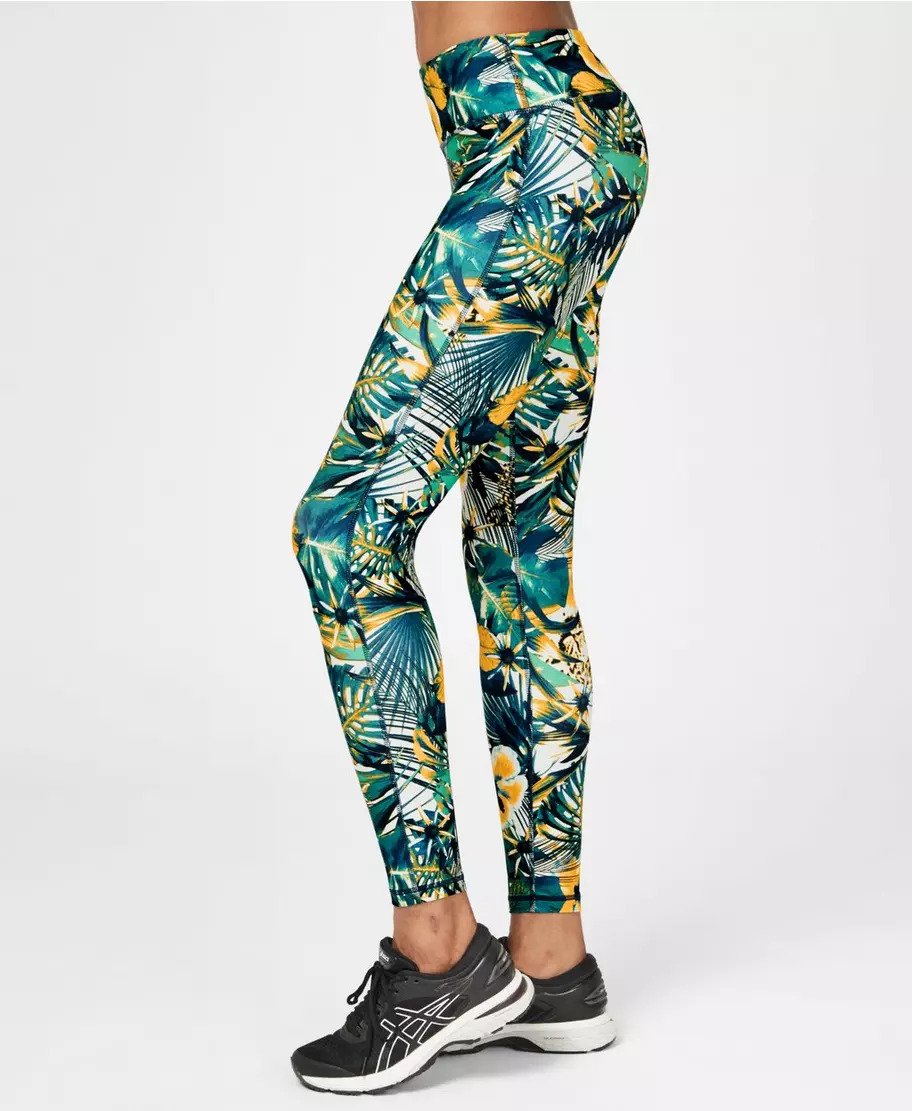 These are a bundle of specs that make these worth the extra money:
The Contour Workout Leggings are a breathable four-way, stretchy legging that comes with an adjustable drawcord to make the perfect fit.
They're also made with sweat-wicking fabric, so while it's smooth and light on the skin, the fabric is still amazing for intense workout routines.
The high waisted feature feels secure and has a reliable tummy control feel.
Different lengths so you can try it in ⅞ or full length.
Best design feature! All the different prints are captivating and super flattering.
Though it doesn't come with a side or back pocket like the Power Workout Leggings or the Zero Gravity High Waisted Running Leggings, I still find this legging to be the most comfortable of the Sweaty Betty leggings and worth the sticker price.
---
6. Power Mesh 7/8 Workout Leggings
While some people are hesitant about mesh leggings, I find an occasional mesh panel detail very appealing, so these Power Mesh ⅞ Workout Legging seem to be the real deal.
Unique for its mesh style, it also has a lot of the same features that make the Power Workout Legging a fabulous choice to have with a few bonuses. So, if you liked how those leggings looked, you might have to make a decision between the Power Workout and the Power Mesh. Choices…choices!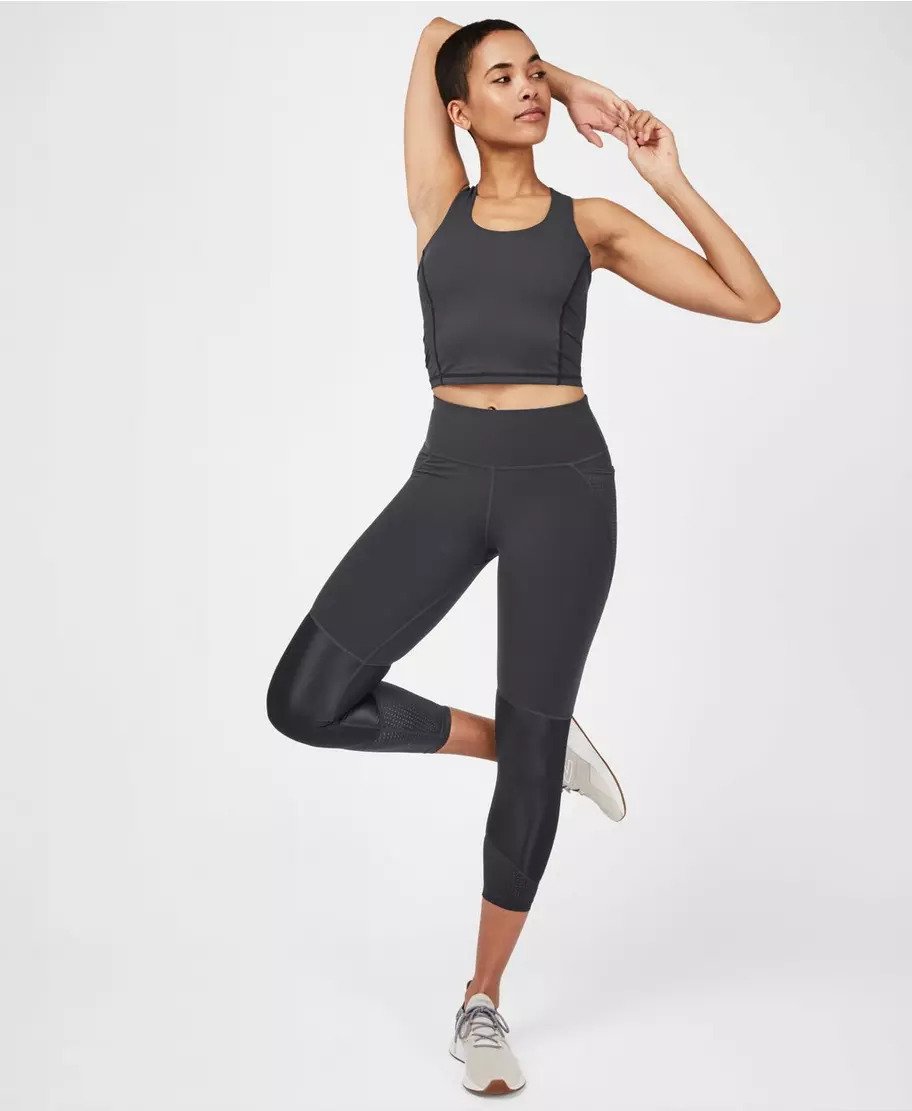 The specs I love:
This legging is a bit more high-waisted with an adjustable drawcord, giving you a firmer stay on power and a refreshing tummy control feature.
It also has a flattering seam to its "bum-sculpting" function that make it sexy in the right ways.
The mesh details on the leggings are visible, cool-looking, and fashion-friendly.
It is also soft, stretchy, and the mesh panel is breathable, and it comes with a handy pocket on the side.
The squat proof and moisture-wicking features are tested and trusted throughout your daily routine.
The $100 price tag is maybe not for everyone, but again, if you love the mesh look, the Power Mesh ⅞ Workout Leggings are a fun and stylishly effortless pick.
---
7. Flatter Me Jacquard 7/8 Workout Leggings
Another 100% squat proof leggings from Sweaty Betty is the Flatter Me Jacquard ⅞ Workout Leggings. Amazing! This bold and fierce print makes me feel glamorous under the spotlight.
Not only does it make you look effortlessly stylish but it gives you a confident workout session. Thanks to its built-in high compression feature these leggings hold snug to your body and flatter you in all the right places. Have a blast in these $110 flattering leggings all season.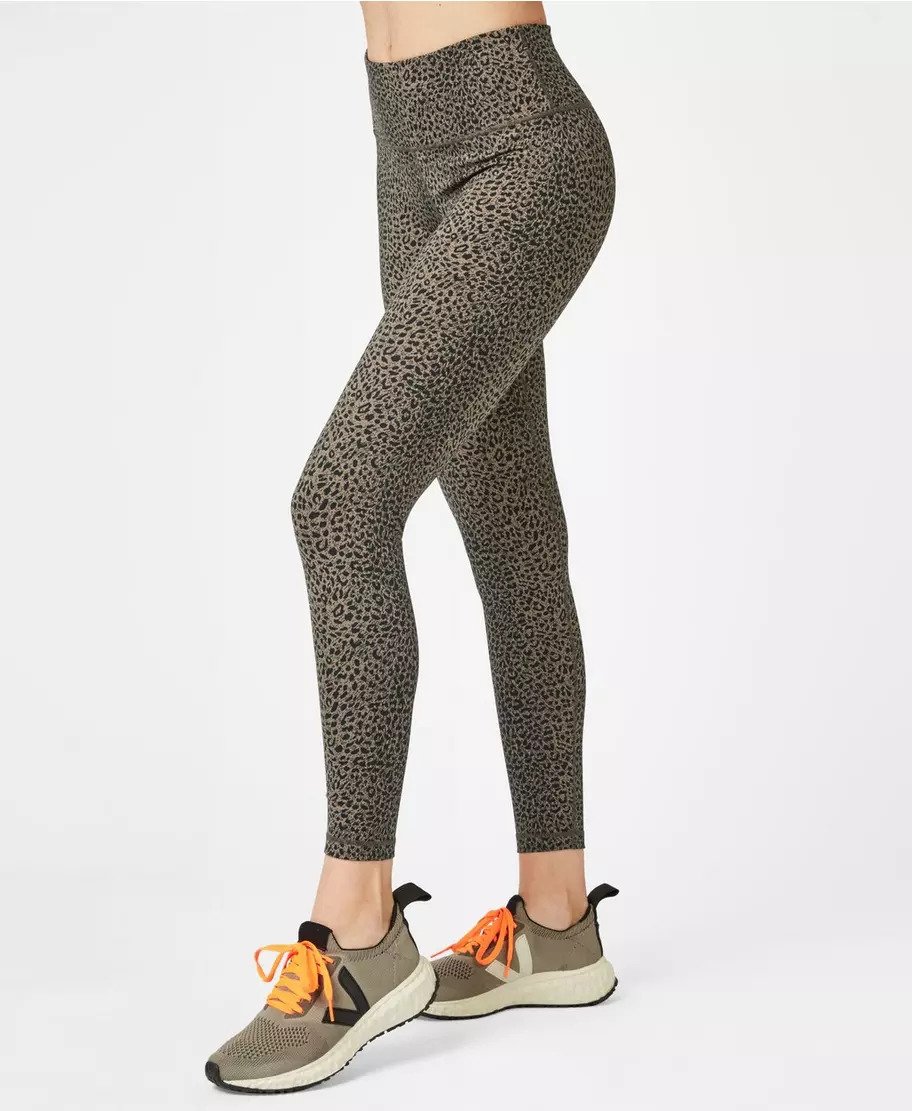 Other favorite features:
The leggings are breathable, stretchy, and its sweat-wicking feature make for a great trio.
High waisted helps with that tummy control while a super sculpting look gives you total coverage.
The available print designs are very chic and fun to rock out.
---
8. Goddess Workout Leggings
I recently stumbled on this newest addition to the Sweaty Betty leggings family family, and I have to say, The Goddess Workout Legging is deserving of its name.
When I think of "goddesses" I think of great architecture and rooms covered in gold. That goddess look is a prominent feature in these leggings. I really love the gold print design. It's just a few splashes but it makes a world of difference compared to the more toned back designs.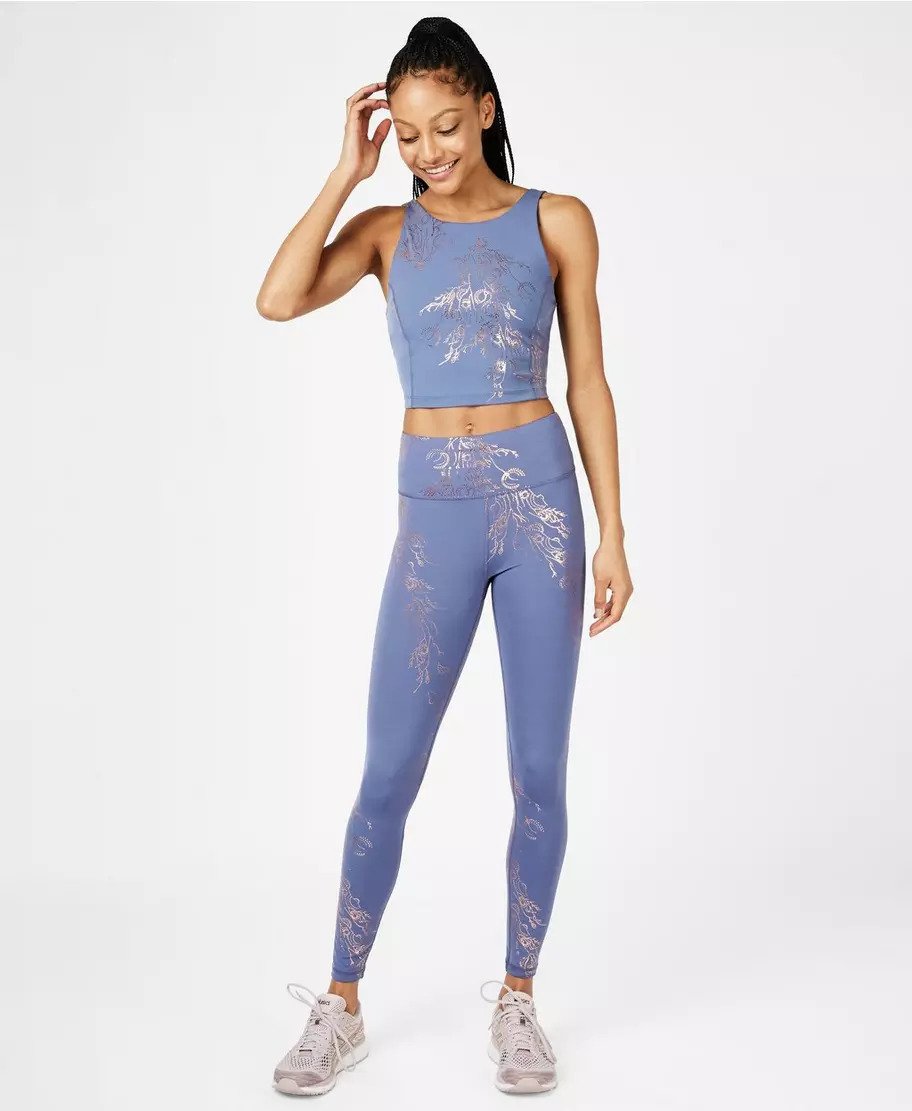 What I especially love about these leggings:
The Goddess Workout Leggings offer a great balance of support and softness with its super soft feel and stretchy fabric.
Its captivating foil detailing on the leggings transforms it into a versatile piece for other activities than just workout.
This high waist design legging is squat proof, and the sweat-wicking feature shows that this is another great Sweaty Betty product.
Whether you want it in ⅞ or full length, the Goddess Workout Legging is the next mainstay legging from Sweaty Betty you might want to add to your collection.
---
9. Embossed 7/8 Workout Leggings
Last but certainly not least is the Embossed ⅞ Workout Leggings. These leggings truly scream perfection. From the embossed crocodile print fabric to the ankle mesh detailing the attractive features of this legging, these leggings are hot right now.
I love the croc print. It's sexy, it's cool and it's fun to wear either to the gym or out to coffee afterward. While they may not the most popular, magazine lauded pair of leggings in the Sweaty Betty collection, these feel like a unique pick.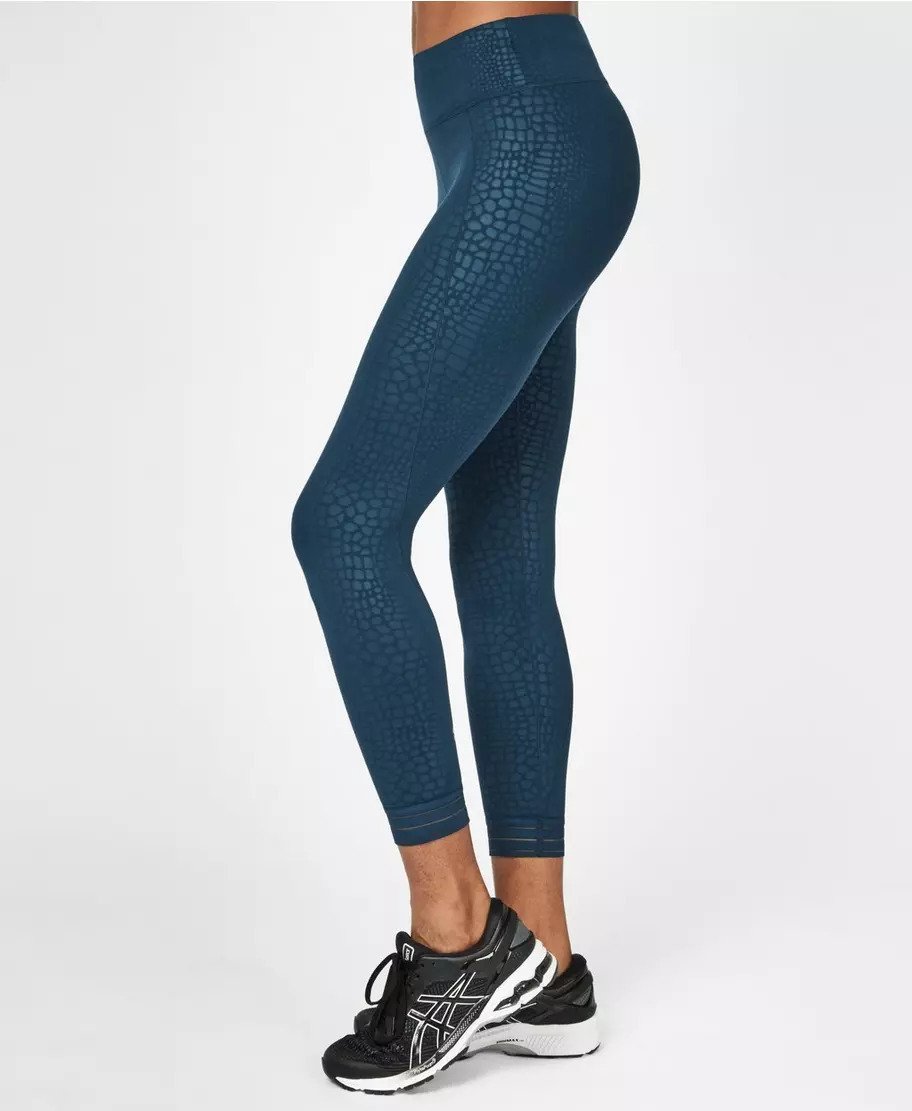 Best qualities of these leggings:
This high waisted legging is ultra-lightweight and again, incredibly soft on the skin.
Built for very intensive sweaty working out, the sweat-wicking feature will keep you dry and cool through your routine workout.
With 100% squat proof, your confidence is ignited in this fabulous legging.
Made up of 21% elastane, you are guaranteed a super stretchy legging that fits sizes and stays firm on the body.
Let's call these the "ready to go and slay" leggings. Perfect for high-intensity workouts and perfectly normal to wear around the house. This is the only leggings from Sweaty Betty that comes only in ⅞ length, and I love the mesh ankle detailing. Very chic.
---
Frequently Asked Questions About Sweaty Betty Leggings 
Are Sweaty Betty leggings worth the money?
Yes, Sweaty Betty leggings are definitely worth the money. As long as you do your due diligence and find the ones that work for what you love to do, then absolutely, buy yourself a durable set of leggings. Take a look at the Power Workout Leggings built for all workouts in mind.
Are Sweaty Betty leggings good?
Sweaty Betty leggings are a higher quality legging that often highly praised by the fitness industry. Most Sweaty Betty leggings feature quality four-way stretch fabric, are squat proof tested, sweat and moisture-wicking, and bum-sculpting.
Are Sweaty Betty leggings squat proof?
Yes, most Sweaty Betty leggings are squat proof. Whether it's 80%, 90%, 99%, or 100%, the Sweaty Betty leggings passed the squat proof test. I love the honesty of this brand!
Why is Sweaty Betty so expensive?
Sweaty Betty tends to be on the pricier side because the features they provide make them a worthy investment. All across the board, Sweaty Betty makes a home run in all these must-have features and includes the "bum-sculpting" feature in most of its leggings. Shelling out a few extra bucks makes it worthwhile in the long run.
Sweaty Betty leggings have it all:
Quality four-way stretch fabric
Squat proof tested
Sweat and moisture wicking
The famous Sweaty Betty "bum-sculpting" features
Bonus – they are fashionable
All across the board, the Sweaty Betty makes a home run in all these must-have features and includes the "bum-sculpting" feature in most of its leggings. Shelling out a few extra bucks makes it worthwhile in the long run.
The 9 Best Sweaty Betty Leggings
Sweaty Betty has a ton of great options, so it's possible to keep yours in rotation for years to come. That being said, when it comes to sourcing for the best leggings for working out, I look for essential features (e.g. if they're squat proof, sweat-wicking, how soft, if they 're stretchy enough for different workouts).
And while these seem like obvious must-haves in leggings, Sweaty Betty is one of those companies that really "gets it." They're definitely a mainstay.
If you enjoyed this post, check out my other amazing leggings post about the 7 Best Lululemon Leggings, Honest Spanx Faux Leather Leggings Review, and the 15 Best Faux Leather Leggings.
PIN FOR LATER!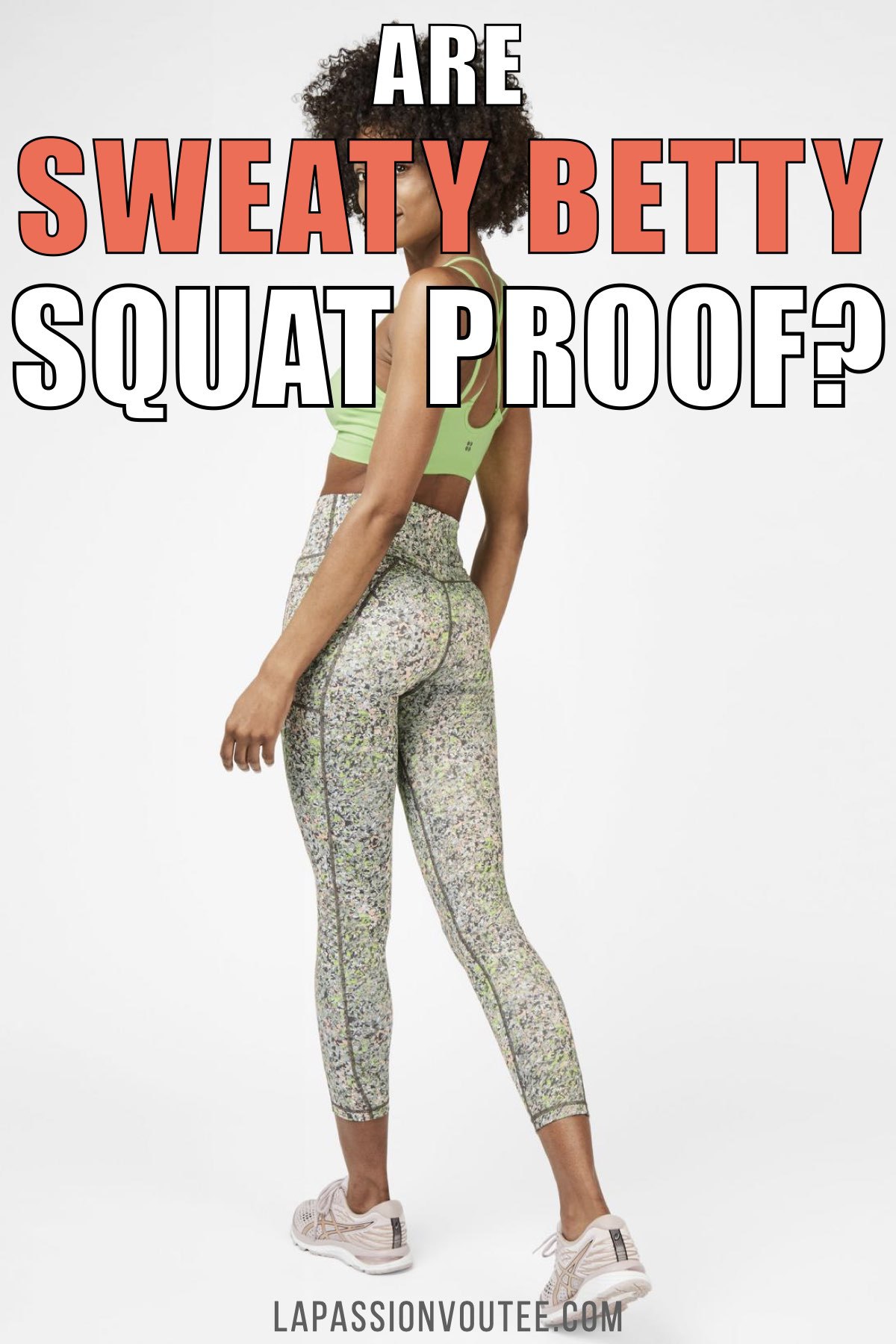 ---